CLARISSA THIEME
Weiter war nichts, ist nichts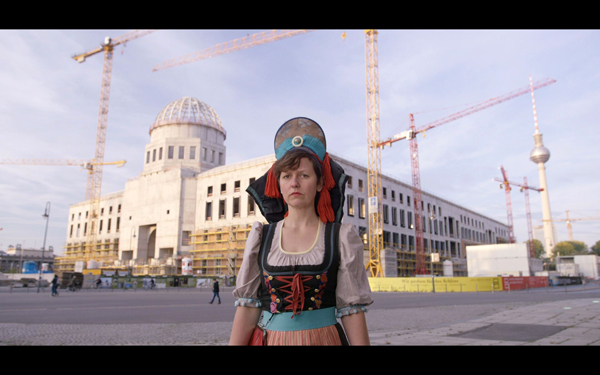 26.11.—4.12.2016
Opening: SAT, 26.11.2016, 7 pm
Finissage: SUN, 4.12.2016 — Artist Talk: 7 pm
Clarissa Thieme's new work "Nothing has been, nothing is." is produced especially for the RAUM FÜR ZWECKFREIHEIT. The installation focuses on a letter by the GDR author Christa Wolf that she wrote for the 40th anniversary of the Aufbau-Verlag. It is presented together with Thieme's latest film "The GDR never existed / Salute", shot during the 20th anniversary of the German reunification on the 3rd of October 2015.
Both works deal with the final dissolution of the GDR by the reunification of Germany and examine them from different temporal perspectives.
The Berlin Wall separated the Adalbertstraße right next to house number 71, where today the RAUM FÜR ZWECKFREIHEIT is located.
Clarissa Thieme is a media artist and filmmaker. In her work, she combines documentary and fictional elements to investigate processes of commemoration and identity building.
--------------------------------------
RAUM FÜR ZWECKFREIHEIT
Adalbertstraße 71
(Courtyard)
10997 Berlin
Jan Ketz
mail(at)zweckfreiheit.de
U-Bahn U1, U8 Kottbusser Tor / Bus M29, 140, 147 Adalbertstr.
--------------------------------------
The RAUM FÜR ZWECKFREIHEIT (SPACE FOR 'PURPOSELESSNESS' - in the sense of free research)
provides exactly the same in a courtyard house at Adalbertstrasse 71 in the centre of Berlin.