INGO GERKEN
OPEN BOOK
16.10.2020 — 5.12.2020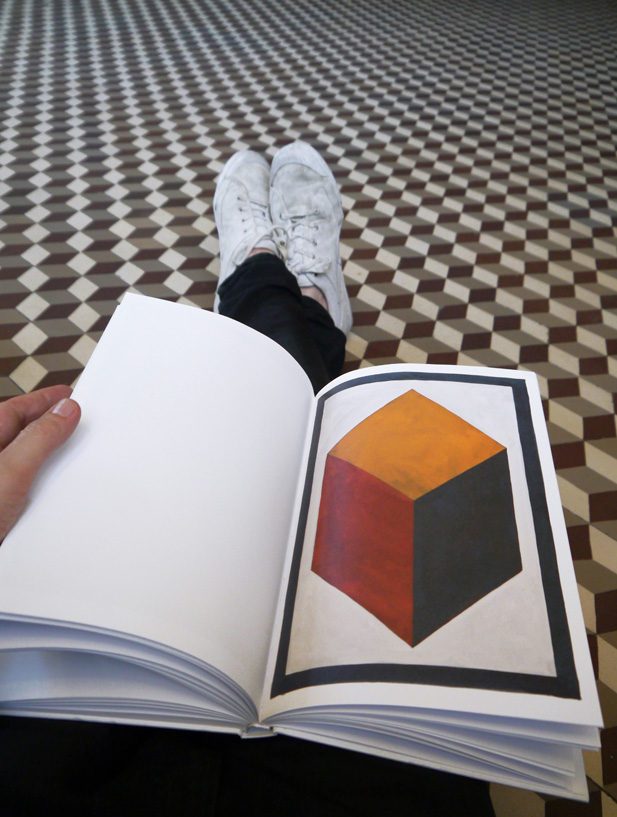 Ingo Gerken's BIBLIOSCULPTURES is a project that uses art publications, exhibition catalogues, and monographs to create direct, temporary dialogues with recent art history. Targeted object interventions into the relationship between book and image in art historical archives and contemporary magazines result in subtle shifts in meaning, augmentations, reinterpretations, and contradictions. In a mutual interplay operating on different levels – for instance between reality and representation, banality and depth, construction and chance – the works lay claim to a new perspective.
Poised at the intersection between an artist's everyday life and research in art theory and cultural studies, selected books become an extended space for play and the viewer's perception. The results are book sculptures and photographs of transient constellations in the fertile interstice between reference and resistance, image politics and object. They always regard the works of art depicted in the context of their multiple reproductions and understand the open book as a conceptually open field for poetic expansion or critical system commentary.
The double exhibition takes place at these two venues:
16.10. — 1.11.2020
RAUM FÜR ZWECKFREIHEIT
Adalbertstr. 71
10997 Berlin
Sat+Sun 3–7 pm

22.10. —21.11.2020 extended> 5.12.2020
MOTTO BERLIN
Skalitzer Str. 68
10997 Berlin
Mon–Sat 12 am – 8 pm
The exhibition is located in the outdoor vitrines in the hallways and courtyard, further works are placed inside the art book store.
U1/U3 Schlesisches Tor
* * *
INGO GERKEN: www.ingogerken.de
* * *
The following books were opened at RAUM FÜR ZWECKFREIHEIT:
1
Modern Matter Magazine, published by OMO inc., a creative agency for conceptual art &
design, London 2020
2
Art of our Time - Ten Years of the Premium Imperiale, The Japan Art Association,
Tokyo 1999
3
Erika Hock - Functionality and Fiction, with an Essay by Vanessa Joan Müller,
published by Lugemik, Tallin 2019
4
Wolfgang Tillmans - Abstract Pictures, Hatje Cantz Verlag, Ostfildern 2015
5
Fred Sandback / Luis Barragán, The Properties of Light, Hatje Cantz Verlag, Berlin
2018
6
Ellsworth Kelly, Hrsg. E.C. Goosen, The Museum of Modern Art, New York Graphic
Society, Greenwich, Connecticut 1973
7
Alicja Kwade, Kestnergesellschaft Hannover, Westfälischer Kunstverein Münster,
Distanz Verlag, Berlin 2010
8
An Anthology of Concrete Poetry, edited by Emmett Williams, Something Else
Press 1967, re-edited by Rachel Simkover, Motto Books Genf/Berlin 2013
9
Anish Kapoor, Svayambh, Hrsg. Rainer Crone & Alexandra von Stosch, Prestel
Verlag, München 2008
10
Fondation Beyeler - Die Sammlung, Hrsg. Theodora Vischer, Hatje Cantz Verlag,
Berlin 2017
11
Gerhard Richter - Bilder aus privaten Sammlungen, Hrsg. Götz Adriani, Stiftung
Frieder Burda, Hatje Cantz Verlag, Berlin 2018
12
Boros Collection - Bunker Berlin, Hrsg. Boros Foundation, Distanz Verlag, Berlin
2017
The following books were opened at MOTTO BERLIN:
1
Hello World - Revision einer Sammlung, Nationalgalerie, Staatliche Museen zu
Berlin, Hrsg. Udo Kittelmann & Gabriele Knapstein, Hirmer Verlag, München 2018
2
Candida Höfer / Rui Xavier - Silent Spaces, Hrsg. Uta Grosenick u. Herbert
Burkert, Distanz Verlag, Berlin 2015
3
Andreas Gursky - Werke/Works 80-08, Kunstmuseen Krefeld, Haus Lange und
Haus Esters, Moderna Museet, Stockholm, Hatje Cantz Verlag, Ostfildern 2008
4
Hubert Kiecol, Kunsthalle Nürnberg, Verlag für moderne Kunst Nürnberg, 1991
5
Germaine Kruip - Works 1999-2017, Oude Kerk, Amsterdam, KW Institute for
Contemporary Art, Koenig Books, London 2018
6
Michaela Meise - Ding und Körper, Badischer Kunstverein, Verlag der
Buchhandlung Walther König, Köln 2012
7
Sexy and Cool - Minimal goes Emotional, Kunsthalle Tübingen, Kerber Verlag,
Bielefeld 2017
8
Wolfgang Tillmans - Abstract Pictures, Hatje Cantz Verlag, Ostfildern 2015
9
100 Jahre Rupprecht Geiger, Nationalgalerie, Staatliche Museen zu Berlin, Hrsg.
Fritz Jacobi und Melanie Wilken, Berlin 2008
* * *
An exhibition by RAUM FÜR ZWECKFREIHEIT
as a part of EMOP Berlin – European Month of Photography 2020

supported by the project fund of Friedrichshain-Kreuzberg, Berlin


--------------------------------------
RAUM FÜR ZWECKFREIHEIT
Adalbertstraße 71
(Courtyard)
10997 Berlin
Jan Ketz
mail(at)zweckfreiheit.de
U-Bahn U1, U8 Kottbusser Tor / Bus M29, 140, 147 Adalbertstr.
--------------------------------------
The RAUM FÜR ZWECKFREIHEIT (SPACE FOR 'PURPOSELESSNESS' - in the sense of free research)
provides exactly the same in a courtyard house at Adalbertstrasse 71 in the centre of Berlin.
Stay updated: verteiler(at)zweckfreiheit.de